http://www.christianfictiononlinemagazine.com/"target="_blank">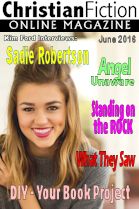 Lisa Samson. Rachel Hauck. Robin Lee Hatcher. Brandilyn Collins. Jill Elizabeth Nelson. Mary DeMuth. What do these multi-published authors have in common? (Besides being multi-published, I mean): They are all columnists for
Christian Fiction Online Magazine
.
I decided to share this link with you because it's been so helpful to me in my fiction writing. Not only will you find columns written by some of your favorite authors (like those listed above), but there are also several agents and editors who regularly share their tips, advice, and wisdom with aspiring authors like me - and you? - to take us one step closer to that publication status.
Other people in the industry to glean from are Rachelle Gardner, Randy Ingermanson, Terry Burns, Kelly Mortimer, and so many more...
In this month's issue, you will learn about
publishing in today's economy
,
print on demand
,
symbolism in fiction
,
screenwriting,
and much more. You will also be able to enter awesome contests like
this one
and learn about
current and upcoming blog tours
.
Get in the know! Subscribe to this monthly magazine and get the inside scoop on everything related to fiction writing and publishing.