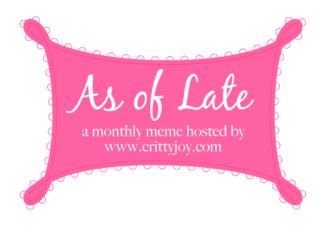 I participated in this meme a couple months ago and came across it again today on Joanne Sher's blog,
An Open Book. 
She mentioned how she really loves the introspection it causes and I have to agree. We could all use some of that from time to time.
Below, I'll share my list." I encourage you to play along. I'd love to know what you've been doing/thinking/feeling...as of late.
Lately...I've been learning to crave God...not food.
Lately...I've been devouring books, and loving every minute.
Lately...I realize more than ever the importance of words.
Lately...the reality of just how brief our time on earth is has hit close to home.
Lately...God has spoiled me way beyond what I deserve.
Lately...my patience is being tested big time.
Lately...I've been appreciating good friends, peanut butter, and sunshine.
So what about you? What's happening in your life lately?